Ingredients
· 1 can Chickpeas, drained and rinsed
· 1/2tsp. smoked paprika, cumin, garlic powder, chilli powder, cayenne pepper
· 1 tbsp. tomato puree
· 1 large onion, thinly sliced
· ½ cup chopped coriander
· Chickpea tortillas ( 1 cup chickpea flour + 1.5 cups water + salt)
· 1 cup shredded red cabbage
· 1/2 can sweet corn
· 1/2 avocado
· ¼ cup spring onions
Tahini Yogurt dressing
· 2 tbsp. tahini
· Juice from 1 lemon
· 2 cloves garlic
· 2 tbsp. yogurt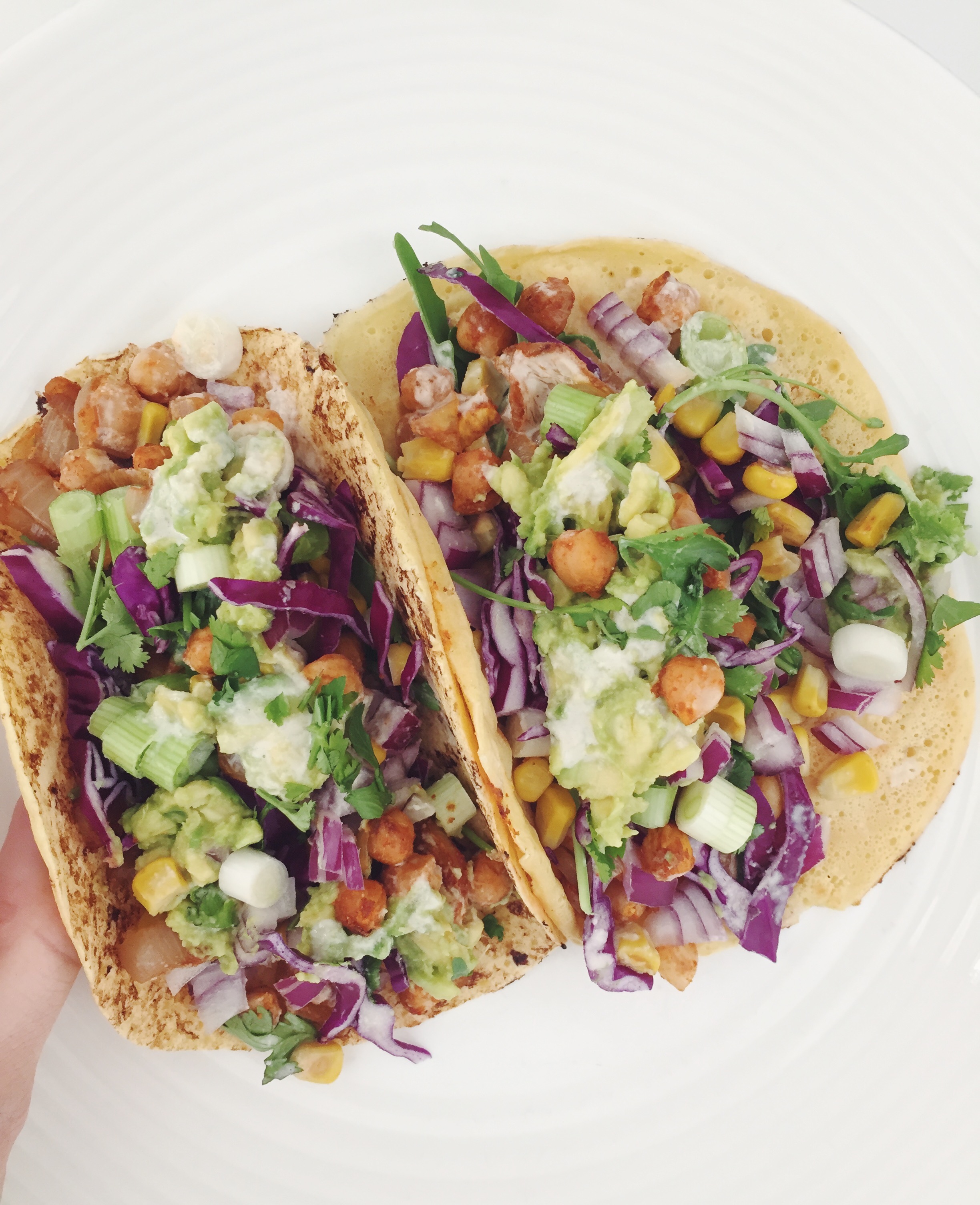 Method
1. If you are making the chickpea wraps, start by mixing the water and the chickpea flour and set aside for 15 minutes.
2. Fry the onion in 1tbsp. olive oil. Add the spices, chickpeas & tomato puree.
3.Transfer to a baking tray and put in the oven at 180.
4. Meanwhile make the tahini yogurt dressing, by adding all the ingredients to a blender, until smooth.
5. Chickpea wraps - heat a non-stick pan and pour 1 ladle of batter into the pan and spread around until you get a crepe shape. Once you start to see bubbles, flip over. It should be about 1-2 minutes each side. Alternatively use pre made wraps.
6. Remove the spicy chickpeas from the oven.
7. Load up the wraps with the chickpeas, cabbage, sweet corn, avocado, fresh coriander, and the yogurt tahini dressing.