This Thai Green Curry uses crispy chickpeas and tofu tossed up in a creamy coconut sauce with a bite of spice from the curry. It is a simple healthy meal bursting with thai infused flavours.
Traditional Thai Curry is made with chicken and fish sauce. To make it vegan/vegetarian I have swapped the chicken for Tofu and chickpeas as my source of protein, and the fish sauce for tamari (gluten free soy sauce) I also made sure to buy a green thai paste that was vegan friendly, Many shop bought pastes include shrimp paste so make sure to check the label if you are wanting a fully vegan meal.
This dish can be served alongside steamed brown rice or enjoyed on its own for a lower carbohydrate meal. You can also add in any additional veggies that you like... Aubergine, cauliflower, and potato would all taste great.
INGREDIENTS
1 block Tofu, chopped into cubes
1 tin chickpeas drained & rinsed
1 onion, chopped
3 cloves garlic, crushed
1 green chilli, chopped
1 large courgette
1 large red or green pepper
1 cup frozen spinach
2 tbsp green curry paste
1 can coconut milk
2 tbsp tamari
INSTRUCTIONS
1. Pre heat the oven to 180. Place the cubed tofu and chickpeas on to a baking tray and drizzle with olive oil and salt. Place in the oven for 15 minutes (or until crispy)
2. Heat a pan with oil and add the onions, garlic, green chilli and let cook for a couple of minutes. Add the courgette and pepper and let cook for a further 3 minutes. Add the remaining ingredients, and turn down the heat.
3. Add the chickpeas and tofu and season to taste. Remove from the heat and serve immediately.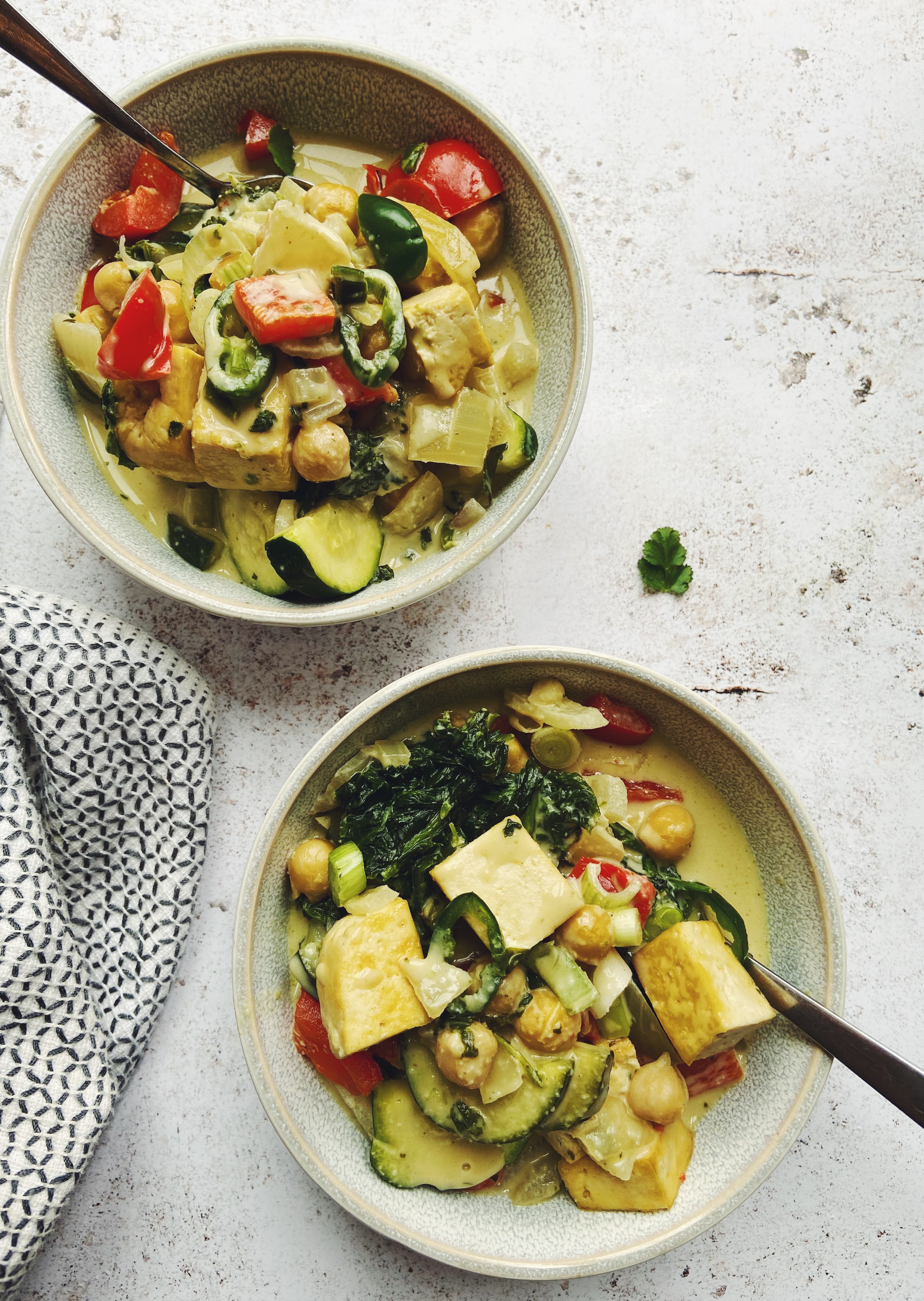 DID YOU MAKE THIS?
Tag @rootedliving1 or Hashtag #rootedliving