This Vegan Lentil Loaf is a healthy and delicious vegan meatloaf thats made with a combination of lentils, oats, mixed vegetables and portebello mushrooms. It is topped with a sweet and tangy balsamic glaze.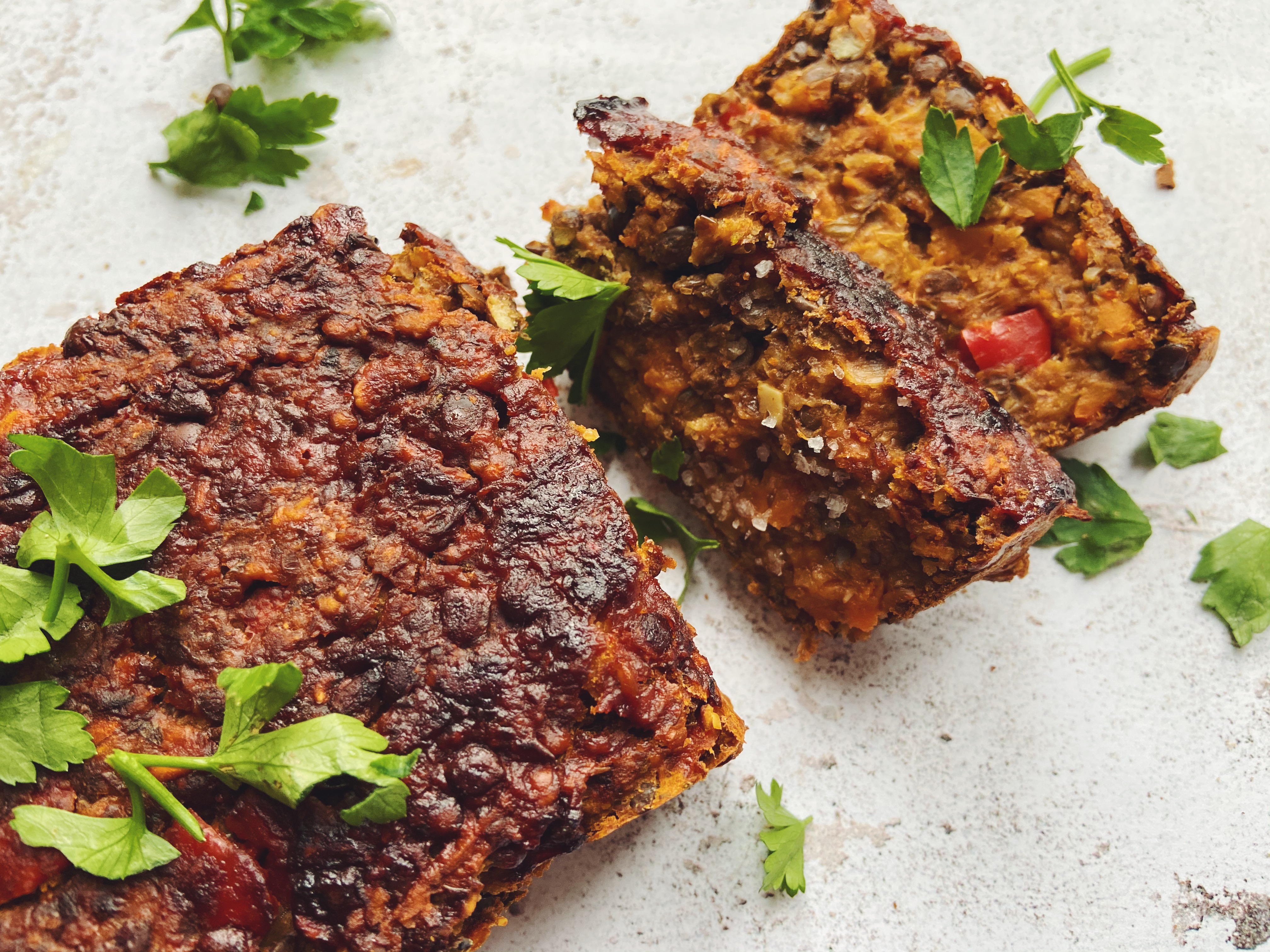 This is a great vegan / Vegetarian option for the holidays. I have made a variation of this the last couple of christmas, but I think this is the best yet, so I am excited to share it with you.
The mushrooms give the loaf a really 'meaty' hearty texture, and the lentils and oats keep you satisified. I sometimes find with lentil or nut roasts, they don't hold there shape, but this one is really easy to slice and keeps well in the fridge.
INGREDIENTS
1 cup cooked Lentils
2 tbsp. flaxseeds + 6 tbsp. Water
1/2 cup oats
1 large carrot, chopped
1 red pepper, chopped
1 large onion, chopped
4 cloves garlic, crushed
2 portabello mushrooms, chopped
Salt & pepper
2 tsp. Paprika
3 tsp. mixed herbs (oregano, thyme, parsley)
2 tbsp. tomato puree
1 tbsp. tomato ketchup
1 tbsp. tamari
1 tbsp. apple cidar vinegar
GLAZE
1/4 cup ketchup
1 tbsp balsamic vinegar
INSTRUCTIONS
1. Cook the lentils in water or vegetable broth.
2. Mix the ground flaxseeds with the water until it turns into a gel like consistency.
3. Heat coconut oil in a pan on medium heat. Add the onion, garlic, carrot, pepper and mushrooms until soft. Make sure to keep stirring and don't let the vegeatbles burn. Season with salt, pepper, mixed herbs and paprika.
4. Reduce the heat and add the ketchup. tomato puree, tamari, apple cidar vinegar and mix everything together.
5. Transfer the veggie mix to a blender, and add the cooked lentils, soaked flaxseeds and oats.
6. Pulse until combined, so there is still texture.
7. Line a loaf tin with parchment paper and pour the lentil mixture in.
8. Mix the ketchup and balsmic vinegar together and spread over the top of the loaf.
9. Pop in the oven at 180 for 30-35 minutes. Remove and let cool before taking out the tin.