This Vegan Christmas Tart is jam packed full of christmas flavours like butternut squash, chestnuts, and cranberries. It can be enjoyed as a side or a main.
If you are looking for a naturally vegan tart this christmas that is tasty but simple to make, then this is it.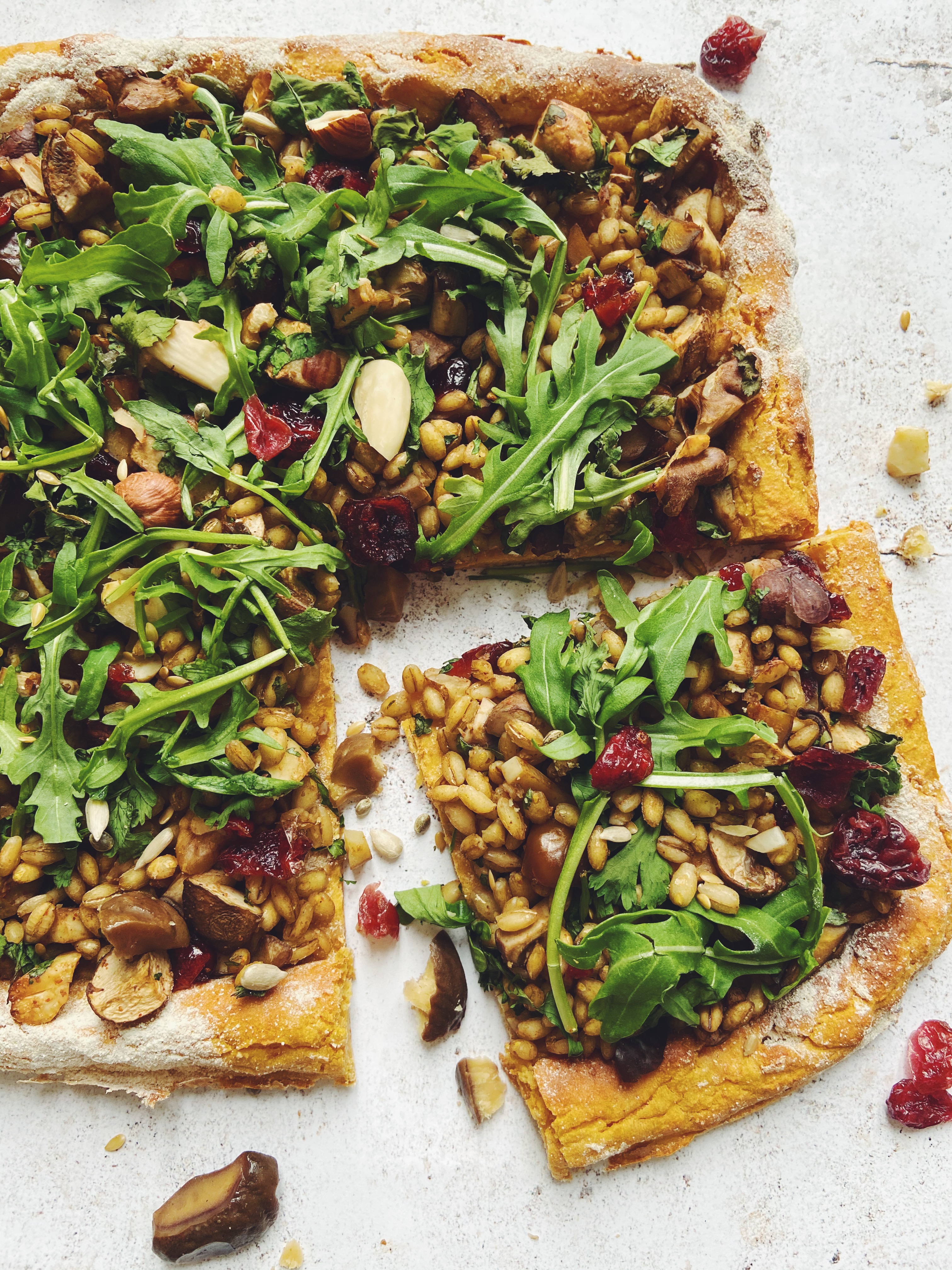 Vegan Christmas Tarts (serves 2-4)
Base
½ cup steamed butternut squash
1.5 cup chickpea flour
1 tsp baking powder
¼ cup water.
Salt
Filling
1 cup pearl barley
2 cloves garlic, crushed
1 tsp paprika
1 cup chestnut mushrooms, chopped small
1 cup kale, finely chopped
½ cup chestnuts, chopped
¼ cup mixed nuts, chopped
¼ cup cranberries
1 tbsp balsamic
Garnish
Fresh coriander and cranberries
METHOD
Mash the cooked squash with a fork. Add the baking powder, chickpea flour, water and salt and mix until combined. Leave in the fridge for at least 1 hour . This is very important, as it allows the mixture to harden up, otherwise it can be difficult to work with.
**Cook the pearl barley according to packet instructions. You could swap this out for quinoa or buckwheat for a gluten free version.
Remove the dough from the fridge, and place on a floured surface. The dough should be easy to handle, and not too sticky. Roll in the flour, and knead for a few seconds.
Line a 35 x 35 baking tray with parchment paper, and then place the dough on the baking tray. Cover with a second piece of parchment paper and using your hands or a rolling pin, roll out the mixture. Remove the top layer of parchment paper, and then fold the dough over at the edges, to make a 'crust'
Bake the crust in the oven for 10 minutes, whilst you make the filling.
For the filling, heat a saucepan with oil and add the garlic, and allow to cook for a few minutes. Then add in the chopped mushrooms, paprika and salt. Next add the chestnuts & mixed nuts. Remove from the heat and add to a bowl along with the cooked pearl barley, cranberries, and balsamic vinegar. Mix the filling together.
Remove the tart from the oven, and spoon over the filling evenly. Place back in the oven for 15-20 minutes, until nice and crispy. Top with fresh rocket, and cranberries.
DID YOU MAKE THIS? Tag @rootedliving1 or #rootedliving