Red Lentil & Chilli Crackers
Ingredients:

1 1/2 cup red lentils
1/3 cup ground flaxseeds
1tbsp. tomato puree
1/2 tsp. ground chilli
A pinch of salt
1/3 cup water
Method:
1. Soak the red lentils in water overnight
2. Drain, rinse and add the lentils to a food processor with all the other ingredients. Blend until smooth. It should be a slightly wet mixture. Place in the fridge for 20 minutes.
3.Line a baking tray with parchment paper and pour the mixture onto the tray and spread thin.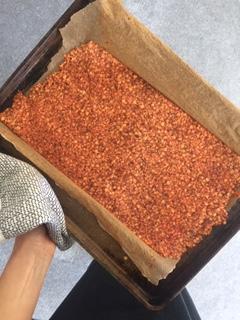 Place in a pre-heated oven (180) for 10 minutes.
4. Remove the oven and using a knife score into roughly 16-20 squares. Pop back in the oven for a further 10-15 minutes until nice and golden. Remove and let cool before breaking the crackers apart.
5. Keep in airtight container for 1-2 weeks.
Serve with hummus or your dip of choice.
Love H x