Peppermint & Coconut Bliss Balls
These peppermint and coconut bliss balls are made with only a few ingredients and are so easy to make. Perfect with a morning cuppa or a sweet treat after dinner.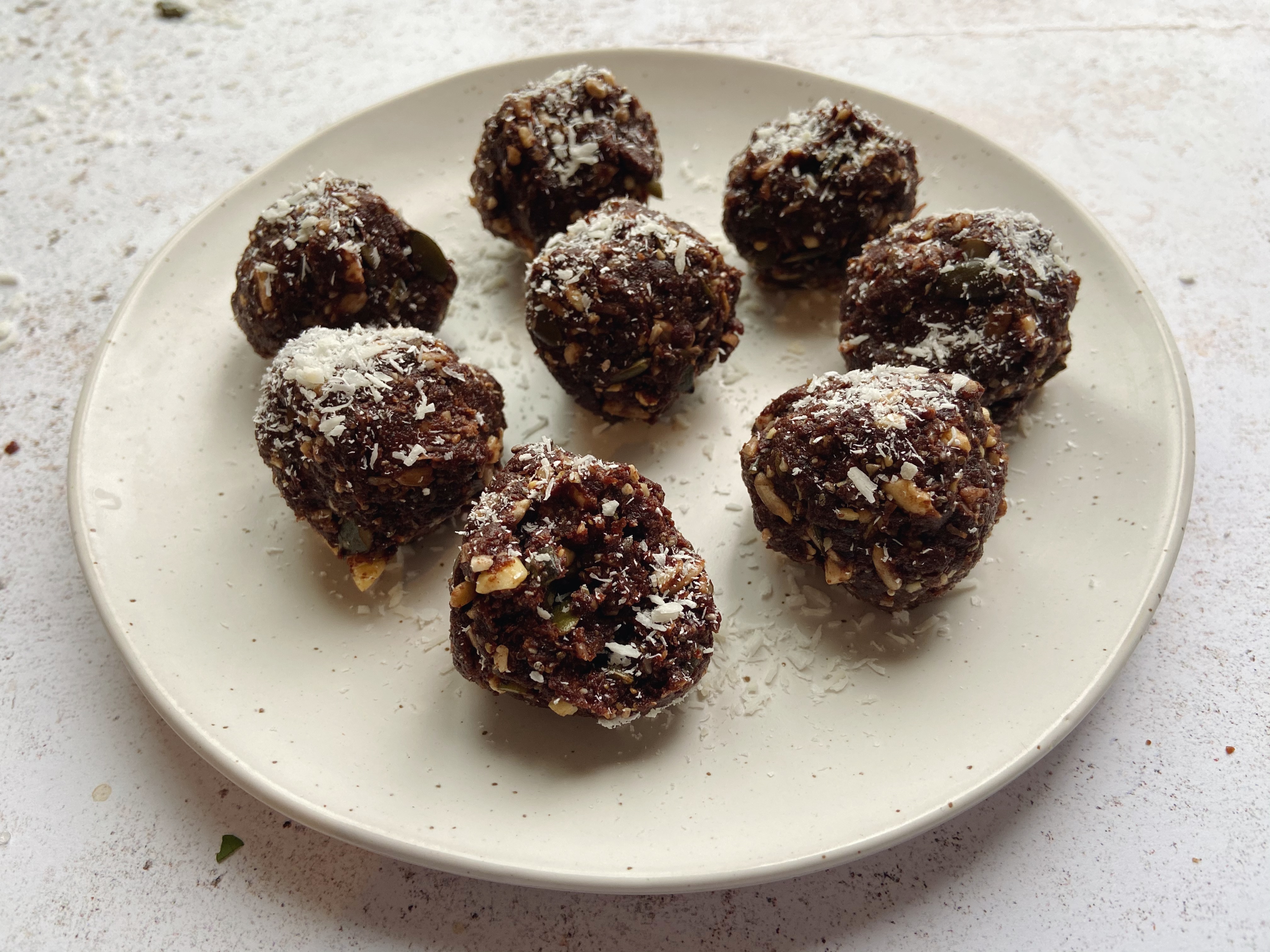 Bliss balls also known as energy balls are a simple treat that pack a mighty punch. They are a mix of whole, raw ingredients blended together and rolled into balls to be eaten as a convenient snack anywhere anytime.
I think I must make a batch of these every week to keep stored in a container in the fridge. I love to adding different the nuts, seeds, and fruit depending what I have in, which also means that I am getting a wide variety of nutrients in to my diet.
They also contain only a handful of ingredients, and by making them at home you know exactly whats inside, meaning there are no hidden ingredients. They are also high in fiber, protein and other vital vitamins. I love using dates as a base for the energy balls, because although naturally high in sugar they also contain fiber, meaning they will give you plenty of energy without spiking your blood sugars.
Next time you feel yourself reaching for a bar of chocolate, why not try one of these delicious wholefood balls.
INGREDIENTS
(makes 12 balls)
1 cup dates (soaked in warm water)
1 cup mixed nuts/seeds (I used cashews, almonds, pumpkin seeds, sunflower seeds)
1/4 cup shredded coconut
1 tbsp almond butter
1/4 tsp salt
2 drops peppermint essential oil
INSTRUCTIONS
1. Add the soaked dates, mixed nuts/seeds, shredded coconut, salt, almond butter and peppermint into a blender and pulse until it comes together to form a sticky ball.
2. Using your hands roll into equal bite-sized balls.
3. I like to sprinkle extra coconut over the top. Keep in an air tight container in the fridge.