MISO CARROT, MUSHROOM & QUINOA BOWL
I have been loving using quinoa in my salads recently. I like to cook mine in vegetable stock to give it extra flavour. Quinoa is great because it cooks much faster than rice and other grains.
Combined with the miso roasted vegetables, this salad is anything but boring.
If you have never tried miso before, it's amazing. Not only does it add a bit of saltiness and sweetness but because it's fermented it contains beneficial bacteria that help balance the bacteria in our gut.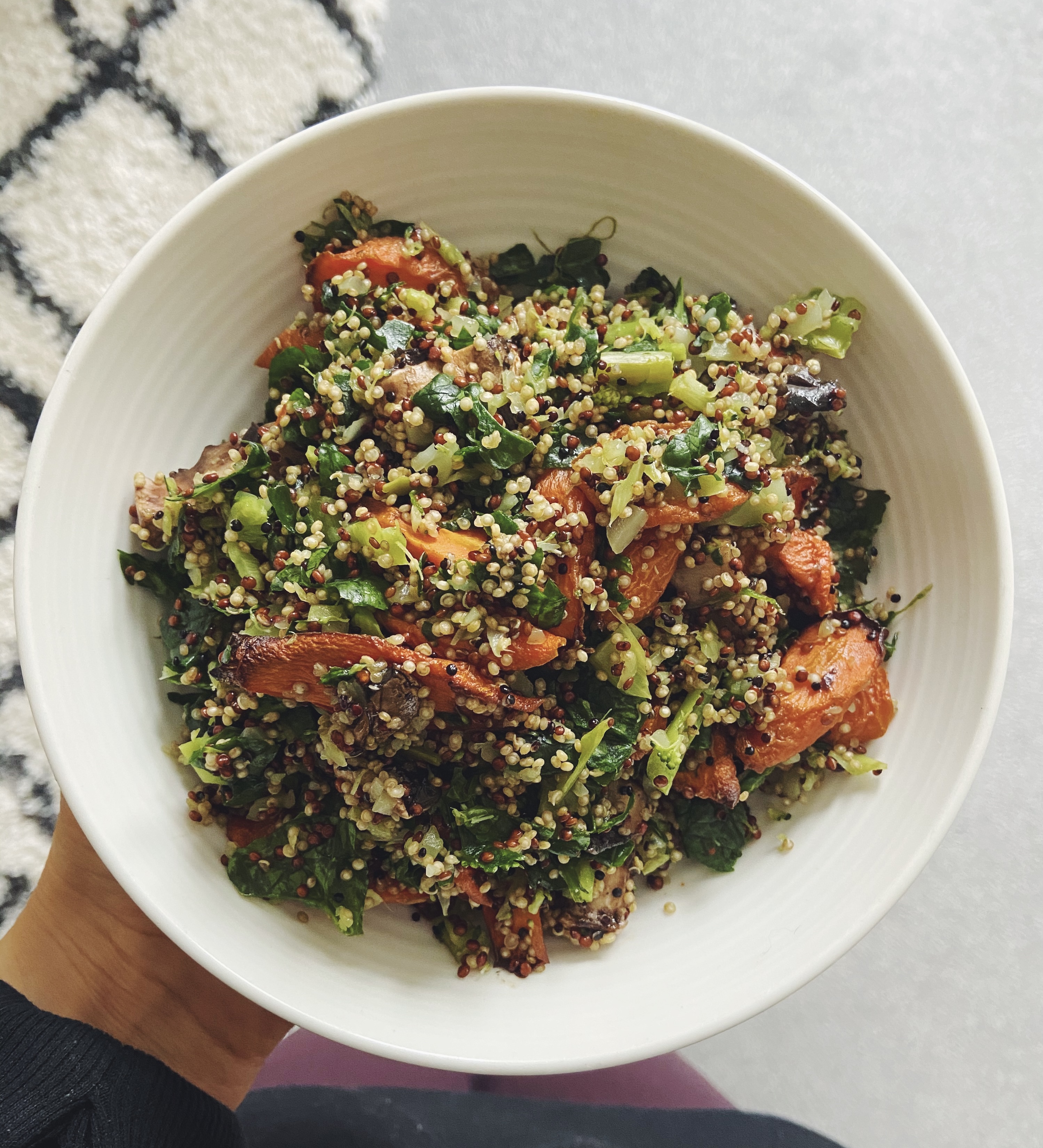 I often like to double the recipe and have leftovers for the rest of the week. The salad will last up to 5 days in an airtight container for up to 5 days.



WHAT YOU WILL NEED (Serves 2 )
3 large carrots, sliced on the diagonal
1 cup button mushroom, sliced in half
1 cup dried quinoa
150ml vegetable stock
2 cups shredded cabbage
2 tbsp miso paste
1 tsp garlic powder
Olive oil
1/2 tsp ground ginger
METHOD
Preheat the oven to 400 F. Place the carrots on a baking tray.
In a bowl mix together the miso paste, garlic, ginger and sesame oil and then spoon 3/4 of the paste over the carrots using your hands to coat everything. Bake for 25 minutes.
Meanwhile heat a small pan with the vegetable stock and add the quinoa.
In a frying pan add a dash of water and on a low heat cook the shredded cabbage.
Once the quinoa is cooked and absorbed the water, set to one side. Remove the carrots from the oven and add the chopped mushrooms and the remainder of the paste. Cook for a further 10 minutes or until the veggies are soft.
Add the cooked cabbage, quinoa, miso roasted vegetables to a bowl and mix well.
Divide between two plates or keep the leftovers in a Tupperware for up to 4-5 days.

When serving I like to drizzle over my Cashew Mayonnaise or Tahini Lemon Dressing.



DID YOU MAKE THIS RECIPE? TAG@rootedliving1 or #rootedrecipes