Maple Tofu & Black Bean Noodles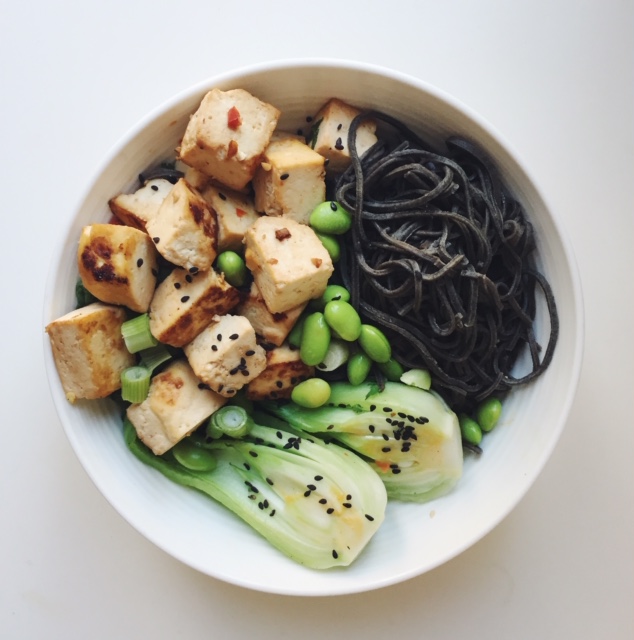 I had so much fun making this delicious maple tofu & black bean noodle dish live on Instagram. For all of those you that missed it here is the recipe. This takes around 15 minutes to make, so is the perfect mid week dinner.
Tofu provides all 9 of our essential amino acids, so is known as a complete protein. Very few plant sources contain all 9 essential amino acids, however if you have a variety of plant protein throughout the day you will get get all the amino acids you need.
Let me know if you make it by tagging @rooted_living1.
Ingredients - Serves 2
250g Black bean noodles
2 Pak Choi

Tofu Marinade
500g Firm tofu
Juice from 1 lime
1 clove garlic, crushed
1/2 red chilli, thinly sliced
2tbsp. tamari
2tbsp. Maple syrup

Dressing
1 clove garlic
1/2 red chilli
Juice from 1 lime
1 tbsp. sesame oil
1tbsp. maple syrup
1 tbsp. tamari

Toppers
Spring onions
Edamame beans
Fresh coriander

Method

1.To make the marinade. Add all the marinade ingredients into a b
owl (red chilli, garlic, tamari, maple syrup, lime)
2. Cut the tofu into chucks, place in a bowl and pour over the marinade. Make sure all the tofu is coated.
3. Boil the water and add your noodles (I used black bean)
4. Add the Pak Choi to boiling water or steam.
5. Heat a pan on medium heat and add the tofu. Cook for 5 minutes until nice and crispy.
6. Make the dressing by adding all the dressing ingredients to a blender (1 clove garlic, ½ red chilli, juice from 1 lime, 1 tbsp. sesame oil, 1tbsp tamari, 1tbsp maple syrup) Blend until smooth.
7. Add the Pak Choi, noodles and tofu into a bowl. Garnish with spring onions, edamame beans, coriander and a drizzle of dressing.