- How to eat healthy when travelling -
Many people are often faced with travelling lots due to work, and find it difficult to eat healthy and maintain fitness whilst away. This is something I have experienced over the last couple of months due to an increase in work demands. This can often cause anxiety with people not knowing how to navigate eating healthy and nutritious meals when they are not in their own kitchen.
I want to reassure you that it can definitely be done, it just takes a little bit more organisation.
Here are some of my tips for staying healthy when travelling:
1) Always have healthy snacks in your bag: Nuts, Seeds, Fresh fruit, Dried fruit, Protein bars, Crispy chickpeas, Popcorn. This way if you are hungry, or not able to buy food you always have something available.
2) When eating out at a restaurant (that don't necessarily have healthy options) don't be afraid to make up your own meal using sides dishes/smaller plates. Almost everywhere has side salads & veggies so you can combine 2-3 starters to make up a main meal. (That way you get to try a few dishes from the menu too ) Alternatively you can ask to adapt an existing meal to fit in with what works for your body eg dressing on the side, or swapping out something for something else ( just see what other ingredients are on the menu)
3) Supermarkets such as Waitrose and Marks & Spencers have fantastic options whilst eating on the go. Some of my favourites are:
Waitrose
- Wheat-berry, lentil and vegetable bags (serves 2 - £2), Chilled soup + five seed bread roll (from the bakery) £2.50
Marks & Spencers
- 'Plant Kitchen' Range- Black Rice & Edamame Nourish bowl £5, Avocado & Egg nourish Bowl £5, Plant Kitchen vegan sushi wrap. £2.89, Roasted sweet potato and Broccoli salad £3.00
Sainsburys 'To go'
- Edamame & Hummus pots £1.69, Carrot sticks + hummus, Veggie Sushi, Falafel + hummus
Pret-a manger -
Sweet potato & falafel salad, Asian veggie box, Butternut & lentil dhal, Red thai vegetable soup. (I do find Pret over priced for the portion that you get, but its convenient and a good option when out and about. )
Although the 'To go' sections are great if you're in a rush, they are often more expensive. If you move away from that section you will find more for your money. For example Marks and Spencers offer two side salads (bean salad, roasted veggies, rainbow quinoa ect) for £4 just a few fridges away. These are much bigger and you can mix and match, meaning more variety (think how happy your gut bugs will be) I just portion up what I want on a plate, and keep the rest for later.
Left overs + mixed leaves & fresh sushi = a speedy evening hotel 'take away'.
4) When buying things in supermarkets try to look for things that are reduced or going off that day (seen as you will be eating that day it doesn't matter). This is a great way to help keep costs down, and I find it pushes me to try things that I wouldn't normally get (due to being over priced). If you are in London there is also an App called Karma where local cafes/shops sell their food at reduced rates instead of it going to waste. You can search places near you and see what they are selling cheap. This means you are also helping to reduce the high amounts of food that is wasted everyday.
5) When staying in a hotel, many rooms have mini fridges meaning you can keep health promoting foods in your room for easy access. You will also be able to save money by bringing things from home and shopping at local supermarkets. On my recent trip I didn't have a fridge but the hotel reception were more than accommodating keeping my milk, fresh veggies & soup in their fridge and heating/cooking it when I was ready for it. You will be surprised what people don't mind doing if you ask nicely.
6) FOOD - I often keep things like carrots, avocados, apples, bananas, individual packets of nut butter, oat cakes, granola, tinned mackerel & salmon, olive oil, protein powder, protein bars & oatmeal with me in my hotel room. These foods don't need to be kept chilled so perfect for any room regardless of a whether there is fridge. Often for dinner I will add some fresh veggies (from a hotel or supermarket) and add a couple of things such as tinned mackerel, oat cakes, avocado and hey presto I have a nutritious cheap meal.
7) Don't be afraid to move away from conventional meals e.g meat + 2 veg. As long as your meal consists of protein (around a fist full), complex carbohydrates, veggies and fat (thumb size) you are meeting all your macronutrients. Examples include:
Hard boiled egg, roasted vegetable and lentil salad, mashed avocado
Edamame & hummus pot, sweet potato, carrot and cucumber sticks
Vegetable sushi, half bag of leafy greens
Falafel, hummus, seeded pita, side salad.
8) REUSABLE - I always carry with me my travel friendly accessories such as knife, fork , teaspoon, and napkins. I also make sure to take a water bottle and travel mug. This helps to eliminate extra costs (buying water) and waste. Most places now having water filling stations and discount on coffee when using your own mug.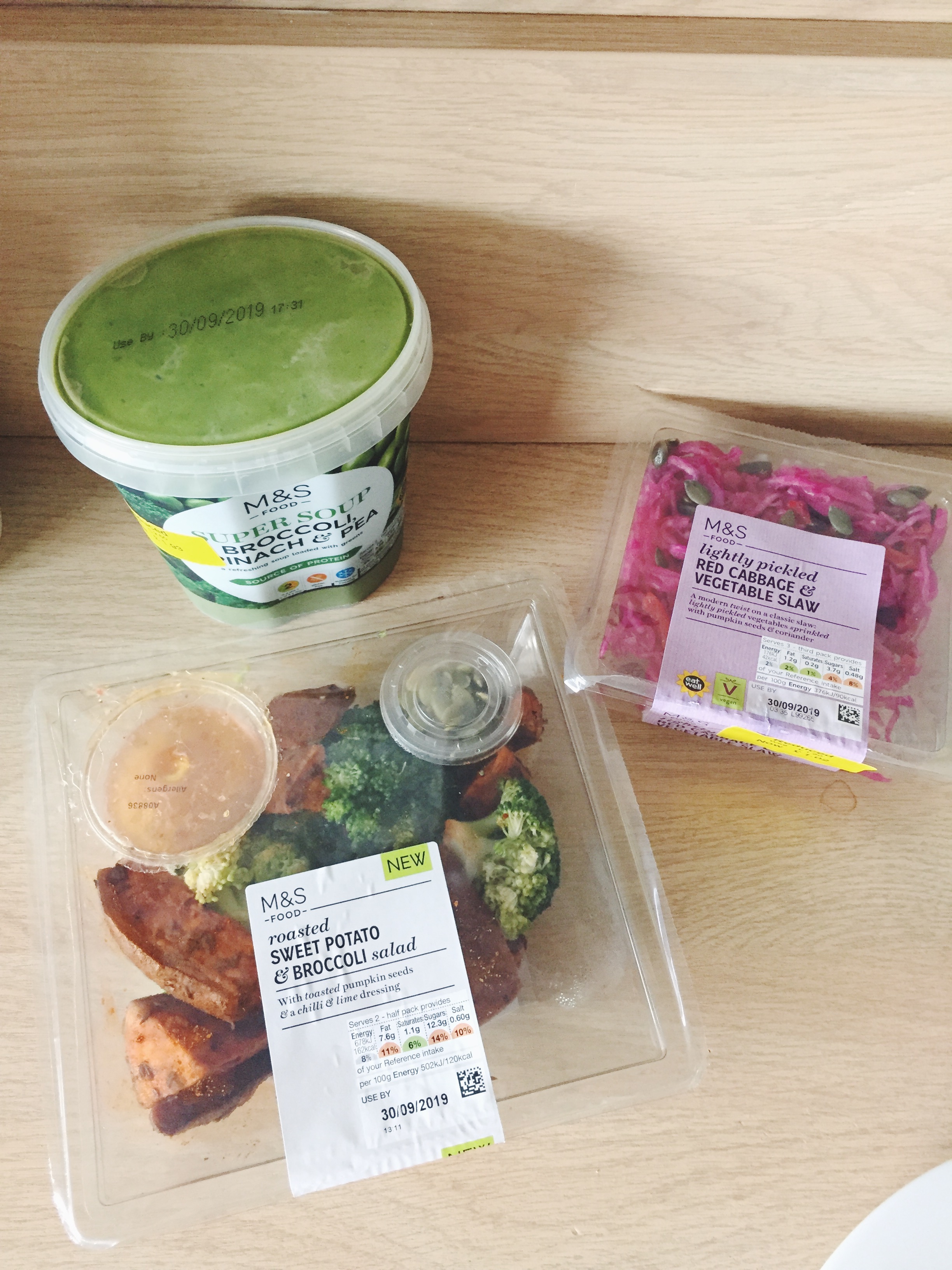 Breakfast Ideas:
Porridge pots ( I love Moma dairy free pots) They are quick, cheap and can be made in hotel room or on the go.
Banana, nut butter or mashed avocado on oat cakes.
Hotel breakfast - Most hotels will offer hard boiled eggs, fresh fruit and plain yogurt which are all great options. I will often stock up on these to east as snacks later on.
Chia breakfast pots. You can buy individual packets of chia seeds, that you can put in a bowl or mason jar. Mix with milk or yogurt, fresh fruit and let sit for an hour. I often bring a couple of small mason jars each with 3 tbsp chia seeds, 1 tbsp mixed nuts/seeds, ready to mix with milk/water for a speedy high protein breakfast.
Yogurt + fresh fruit & granola.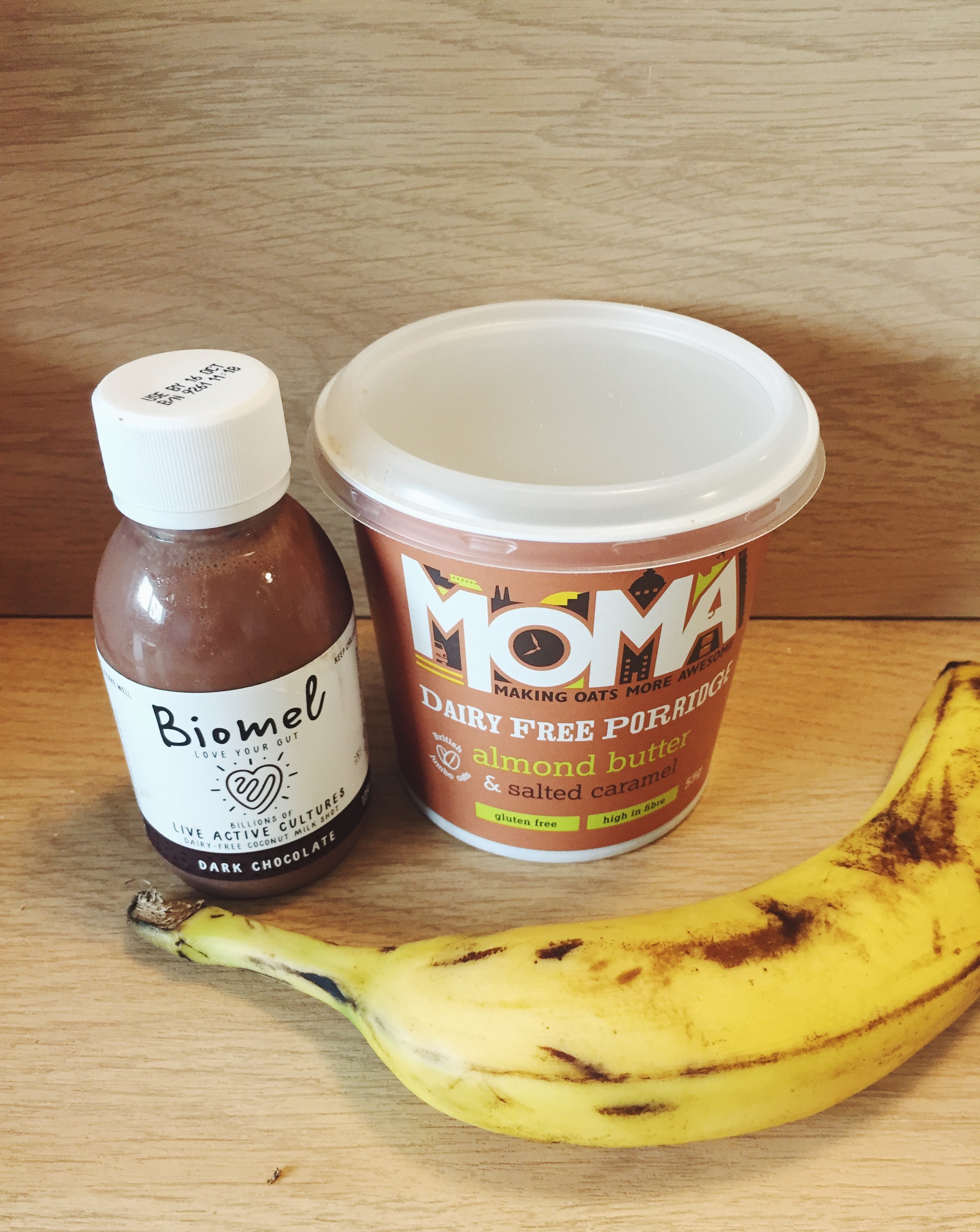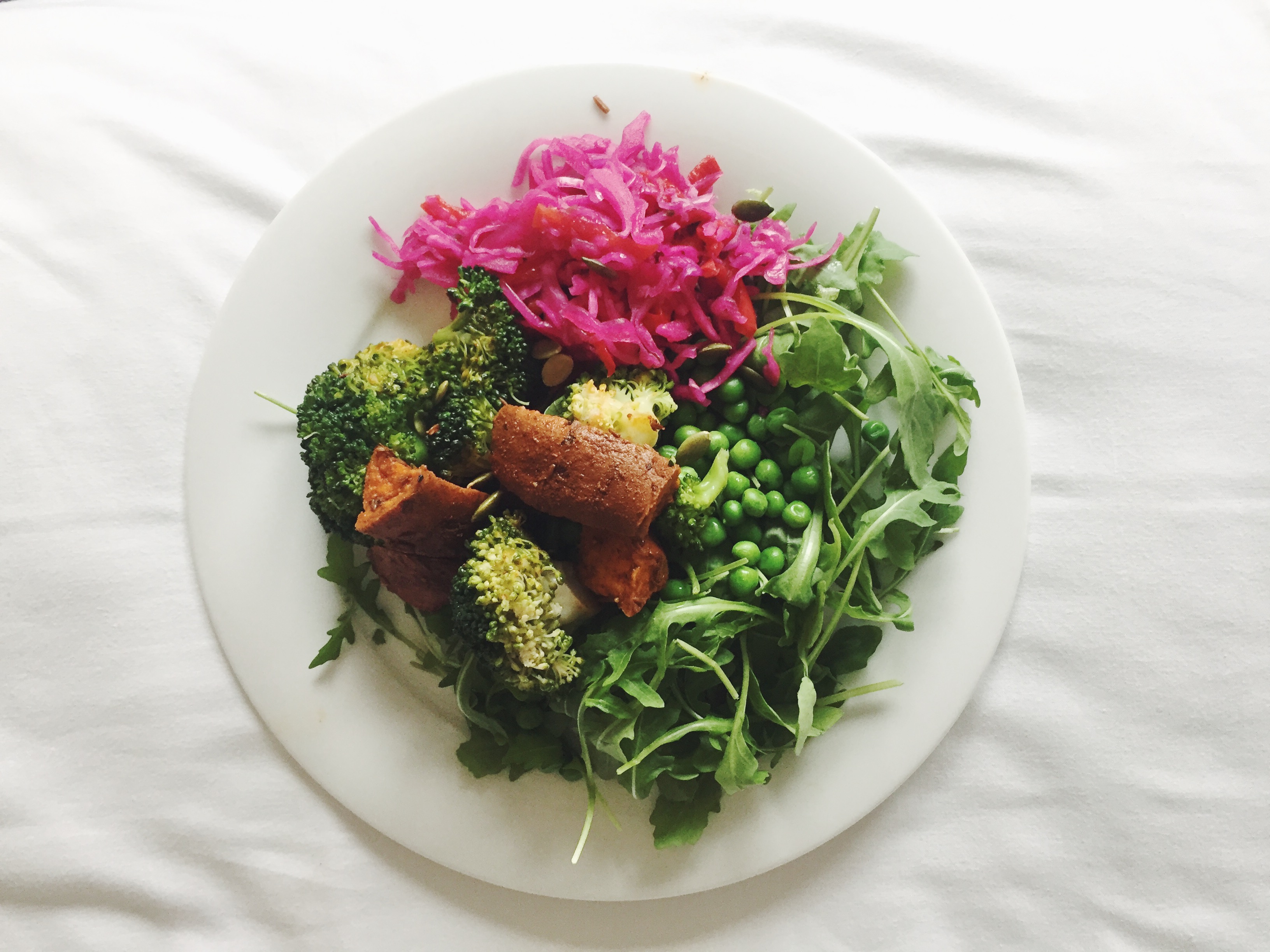 Whilst also of these tips can be useful, the most important thing is that you don't stress too much about food imperfections and beat yourself up. In fact one of the major causes of digestive discomfort is stress. This means you could be eating the most nutritious meals, but due to stress you are impairing the breakdown and absorption of the food.
In short enjoy the opportunity you have been given to travel with work or go on holiday, making healthy choices when you can whilst enjoying the opportunity to experience new foods/cuisines.