Ginger Spiced Chocolate Tiffin
This delicious Ginger Spiced Tiffin only contains a handful of ingredients and takes just 10 minutes to make.
This tiffin has to be up there with my all time favourite snacks. It is a definite crowd pleaser (whether someone is trying to eat healthy or not). This is also a great gift idea. Who doesn't like receiving chocolate for christmas? I simply wrap the tiffin in some brown paper and decorate with ribbon.
Why you will love this recipe
1. It is so easy to make. It takes 10 minutes from start to finish.
2. Leftovers can be stored in the fridge for up to two weeks or in the freezer.
3. They make perfect stocking fillers or christmas gifts.
4. They are a crowd pleaser, so a great one to make for a party/family occasion.
5. They taste deliciously rich, but contain wholesome ingredients.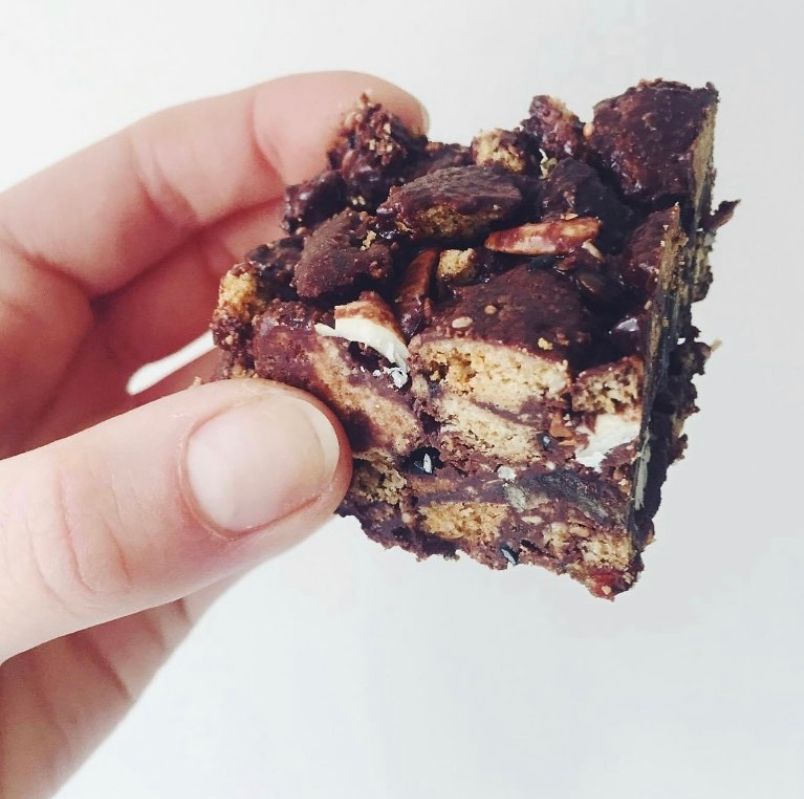 Ingredients
120g biscuits (I used vegan ginger nuts)
150g dark chocolate
2 tbsp coconut oil
2 tbsp almond butter (or any nut butter)
1 tbsp maple syrup
2 tsp ground ginger
1/2 cup chopped nuts
1/2 cup chopped and stoned dates
Handful of raisons (optional)
Method
1. Melt the chocolate, coconut oil and almond butter together in a saucepan.
2. Place the biscuits in a clean tea towel and bash against the side of the counter until crumbled (but not completely crushed) Add to a bowl with the remaining ingredients.
3. Then add the chocolate and mix well. Pour into a lined baking dish and pop in the fridge for 30 minutes.
4. Remove from the fridge and cut into squares. Store in an airtight container for up to 2 weeks.
DID YOU MAKE THIS?
Tag @rootedliving1 or #rootedrecipes