Edamame Fritters, Roasted Squash & Cashew Mayonnaise
I am just a little bit obsessed right now with making fritters. They make such a delicious brunch, lunch or dinner. They are also so versatile so you can mix up the vegetable you use. I have swapped the edamame for sweetcorn, peas, & cooked red lentils ( all of which are store/freezer stables in my house). They have all been so delicious. I would love to hear if you have made them, and what your favourite combo is.
Ingredients
Fritters
· 2 cups edamame
· 1 cup chickpea flour
· 1 tbsp. tahini
· ½ tsp. baking powder
Cashew mayonnaise
· 1/3 cup soaked cashews
· Juice of 1 lemon
· Pinch of salt
· 1 clove of garlic, crushed.
Method
1. Drizzle the butternut squash with olive oil and put in the oven at 180. 2. Put the edamame beans into a blender and pulse a few times. (You still want it to be a bit chunky) 3. Add the chickpea flour, baking powder, tahini and ½ cup water. Mix together until well combined. 4. Heat a non-stick pan, add a drizzle of olive oil and then spoon 1-2 heaped tbsp. of mixture into the pan (this is one fritter) This makes 6 large fritters or 8 smaller ones. 5. For the cashew mayonnaise, all the ingredients to a blender, with ¼ cup water. Blend until smooth and a mayonnaise consistency. The mayonnaise will thicken in the fridge.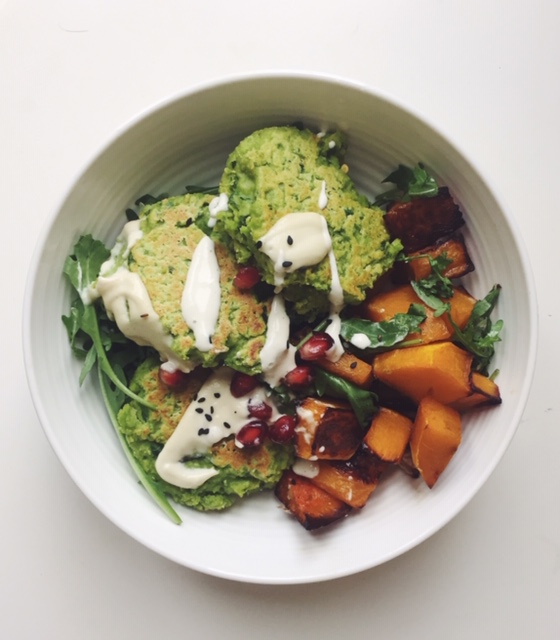 Tag @rooted_living1 if you make these so I can see you enjoying them :)