Chocolate Cherry Smoothie Bowl
Who says you can't have chocolate for breakfast? I regularly do in the form of this chocolate cherry smoothie bowl. Loaded with berries, yogurt, and nuts it will keep you feeling satisfied for hours.
Infact if you follow me on Instagram, you will know that I have a thing for smoothie bowls. I make smoothie bowls almost every day (yes even in the winter) because I love how versatile they are.
There are a couple of keys to follow when making a smoothie.
Typically smoothies can be be high in sugar, albeit fruit sugars, but whether its sugar from fruit, coconut sugar or maple syrup the rapid rise of sugar in the bloodstream can send your energy and mood flying. That's why I make sure my smoothie bowls are loaded with good quality protein and fats like greek yogurt, nuts & seeds AND added veg (because I will always try and sneak it in when I can)
Cauliflower is part of the cruciferous family and has an array of nutrients, but in this recipe it helps to make the smoothie creamy, and give it an ice cream texture (I promise you can't taste it) This would be a perfect one for kids, as it's not always easy getting in cruciferous.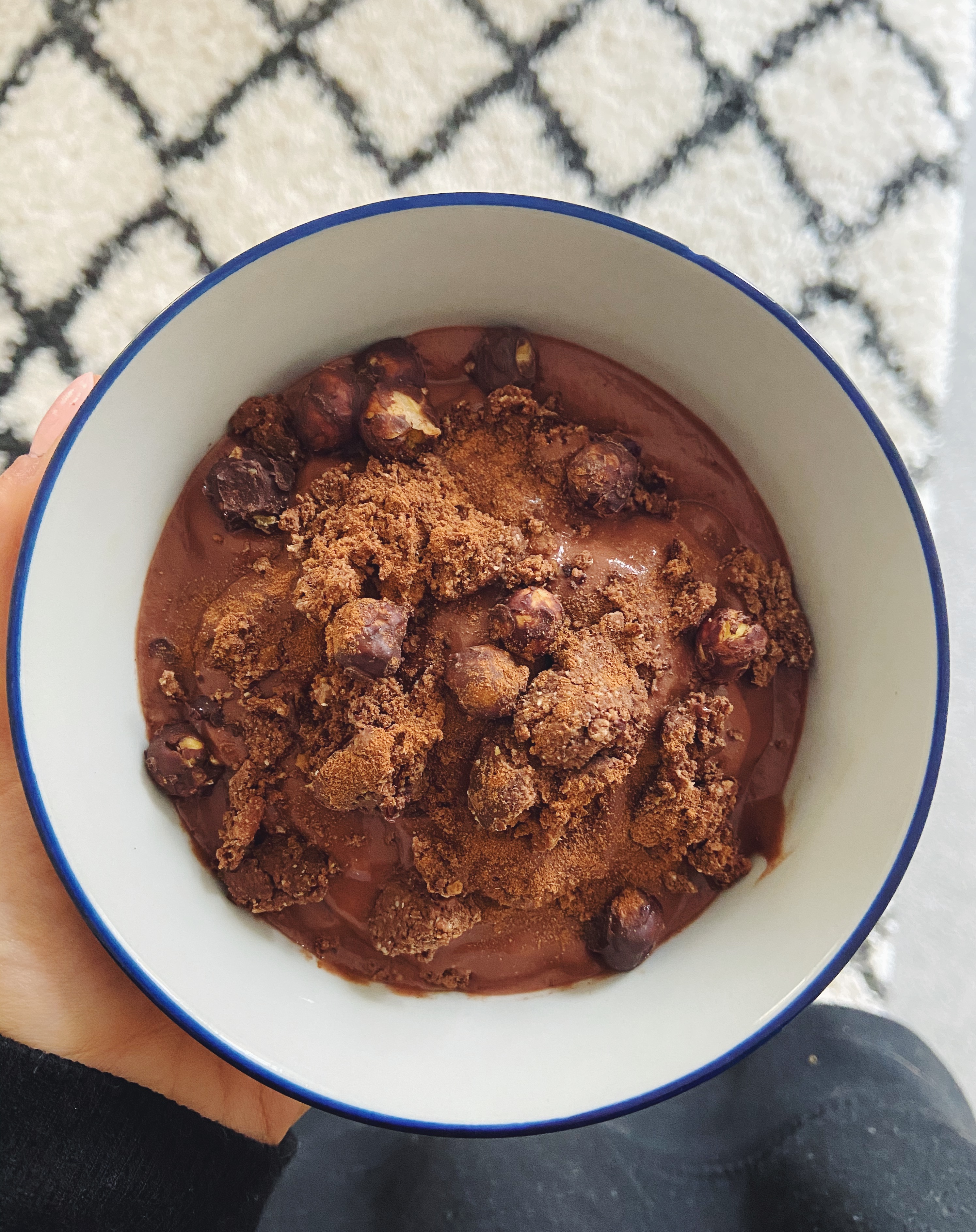 The other thing that I always make sure when having a smoothie bowl, is to add 'crunchy' toppings that require chewing. When we chew, we actually stimulate the digestive enzymes that facilitate digestion. That's why I always emphasise the toppings on both smoothie and soups.
I topped this smoothie bowl with my crispy chocolate chickpeas, cinnamon and homemade oat clusters.
INGREDIENTS
3 florets of steamed then frozen cauliflower
1/4 cup cherries
2 tbsp greek yogurt
1 scoop chocolate protein powder
1 tbsp cacao powder
1 tbsp almond butter
Pinch of cinnamon
Dash of milk or water
Put everything into a blender, and blend until thicky, creamy and deliciously smoothe.
DID YOU MAKE THIS? TAG @rootedliving1 or #rootedrecipes