This delicious BBQ TOFU NOURISH BOWL is filled with so much flavour from the deliciously sticky BBQ sauce, and packed full of colourful rainbow vegetables and plant goodness.
Nourishments are probably one of my favourite lunches, because essentially you can fill your bowl with anything you have in the fridge! The Key is too make it as colourful as possible.
Think
EAT
THE
RAINBOW.
I always like to start with a base of greens, then add in 3-4 different colour vegetables (beetroot, tomatoes, cucumber, celery, radish, peppers, sweet potato, squash etc) then add a good protein source, in this recipe I am using Tofu and quinoa, but you could add salmon, chicken, eggs, lentils, beans etc. Then I simply add a dressing or hummus.
The great thing about these bowls, is that if you have pre prepped some of the ingredients at the start of the week, it only takes a matter of minutes to assemble.
At the start of this week I made BBQ tofu (and kept in an airtight container), chopped up raw bell peppers, tomatoes and cucumber and kept them in a tupperware, and cooked up 3 portions of quinoa, making this lunch very speedy!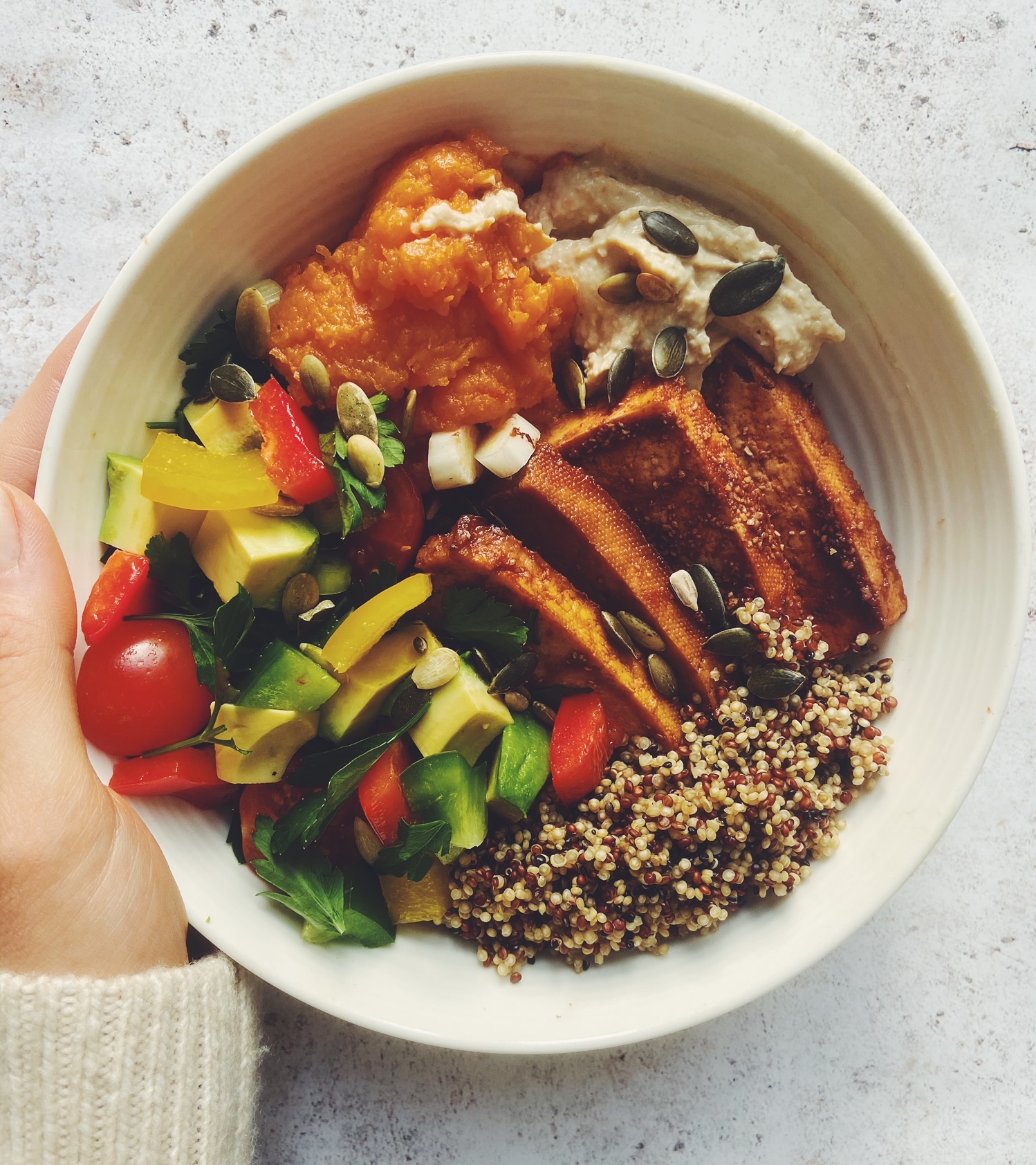 Ingredients (serves 2)
1 firm block of tofu
1 large sweet potato
1 cup cooked quinoa
2 tbsp Hummus
1 avocado, chopped into cubes
1/2 red pepper / 1/2 yellow pepper chopped into strips
Fresh parsley, chopped
Cherry tomatoes, halved
Fresh spinach
BBQ marinade
1 tbsp maple syrup
2 tbsp balsamic vinegar
1 tbsp tomato purée
1 tbsp tamari or soy sauce
1 tsp paprika
1 tsp garlic powder
Pinch of salt
METHOD
1. Start by cutting the sweet potato up into chunks, and placing in a steamer for around 20 minutes (or until soft)
2. Next add all the marinade ingredients to a bowl and mix well ( it should be quite thick).
3. Squeeze any excess water from the tofu (you can do this with a clean tea towel) and then slice into 'steak' strips. Coat the tofu with the BBQ sauce either using your fingers or a small pastry brush.
4. Place the tofu on to a baking tray with a drizzle of olive oil and bake for 10 -15 minutes or until crispy. Alternatively you could fry the tofu.
5. Once the sweet potato is cooked, remove from the heat, and allow to cool for a few minutes. Remove the skin, and using a fork mash the potato, adding seasoning and a tsp butter of coconut oil or butter. Then remove the Tofu from the oven
5. To assemble your bowl, start by adding a base of spinach, then your chopped veggies, cooked quinoa, mashed sweet potato mash, BBQ tofu, a good dollop of hummus and a sprinkle of seeds.


DID YOU MAKE THIS? Tag @rootedliving1 or #rootedliving