Basic Tomato Sauce, Four Ways
You will never need to buy another jarred tomato sauce again. This quick, easy and delicious sauce is the base for some family favourites such as bolognaise, lasagne, chilli and shepherd's pie.
Ingredients (serves 4)
1 tbsp. olive oil
1 onion
2 cloves garlic
1 vegetable stock cube
1 tin chopped tomato
2 celery sticks
2 carrots grated
1 tbsp. Maple syrup
Method
Heat the oil in a pan and add the onions and garlic. Add in the veg, a pinch of salt and the maple syrup. Gently cook for 10-15 minutes until the veg is tender. Stir in the tomatoes and ½ cup water. Simmer gently for 30 minutes until the sauce has thickened.
Whether you are a veggie, vegan or meat eater, these recipes will cater for you. Simply make the tomato sauce, and depending on what dish you are making, add the relevant herbs and spices. If you are adding meat, why not try using a third mince, a third lentils and a third veggies. (Lentils and mushrooms work wonderfully in a chilli & bolognaise.) This way you will be getting more fibre & vegetables.
---
Bolognaise
To make the tomato sauce in a bolognaise, add 2 tbsp. of Italian herbs and 1 cup of water to the basic tomato sauce recipe. For a veggie bolognaise, add in 2 cups of puy lentils, 1/2 cup grated carrot and 1 cup button mushrooms. Simmer on a low heat until the lentils and veggies are soft. Serve with whole wheat spaghetti and fresh spinach.
---
Lasagne
White sauce
tbsp olive oil

100g/3½oz plain flour

1¼ pint unsweetened almond milk

3 tbsp nutritional yeast flakes

¼ tsp ground nutmeg

salt and freshly ground pepper
Heat the oil in a medium saucepan. When it is hot add the flour and cook, stirring all the time, for 1 minute. Stir in the milk, yeast, bay leaf and nutmeg and season well with salt and pepper.

Bring to a simmer, whisking constantly with a metal whisk over a moderate heat for 4–5 minutes, or until smooth and thickened. (Use a silicone covered whisk if using a non-stick saucepan.) Adjust the seasoning to taste – you'll need more black pepper than you might imagine.
Add 2 tbsp. Italian herbs to the basic tomato sauce recipe. Meanwhile, cut courgette, aubergine and red pepper into slices and drizzle with olive oil. Roast in the oven for 35 minutes. Add the roasted vegetables with 1 cup puy lentils (or mince) to the tomato sauce. Spread a third of the vegetable mix over the base of an ovenproof dish and cover with a layer of lasagne sheets. Top with another third of the vegetable mixture and a second layer of lasagne. Add under 1/2 the white sauce and the remaining vegetable mix. Finish with a final layer of white sauce and bake in the oven for 35-40 minutes.
---
Veggie Chilli
To make the tomato sauce into a spicy bean chill, add 1 tbsp of cumin, 1 tsp of chilli powder and 1 cup of water to the basic tomato sauce recipe. Then add 1 tin of mixed beans, and 1 cup of puy lentils. Reduce the heat and simmer until the lentils are soft. Serve with brown rice, sliced avocado and creme fresh.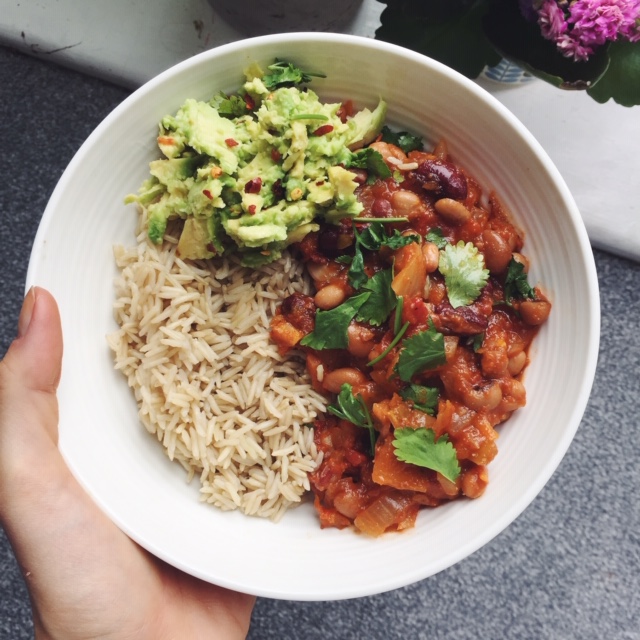 ---
Shepherd's Pie
To make a shepherds pie, use the basic tomato sauce, omitting the garlic and adding 2 tbsp. of mixed herbs. Add in 1 cup chopped carrots, 1 cup cooked lentils and 250g organic lean beef mince. Simmer for 25 minutes on a low heat. Pour the filling into an oven bake dish and top with sweet potato mash. Cook in the oven for 30 minutes.
Cooking healthy delicious meals does not have to be complicated. From this basic tomato sauce recipe, you are able to make four delicious meals that can be batched cooked and portioned for the freezer.
If you would like personalised help and 1:1 coaching, book your free 15 minute discovery call.