Aubergine & Roasted Red Pepper Soup
This delicious Aubergine and red pepper soup is loaded with Mediterranean flavour and is just the right amount of spice for a warming and flavourful soup.
Roasting the vegetables releases depth and flavour and creates a deliciously rich dish. This soup can also double up as a pasta sauce and keeps well in the freezer!
This dish is naturally gluten free, vegan and takes less than 30 minutes to make.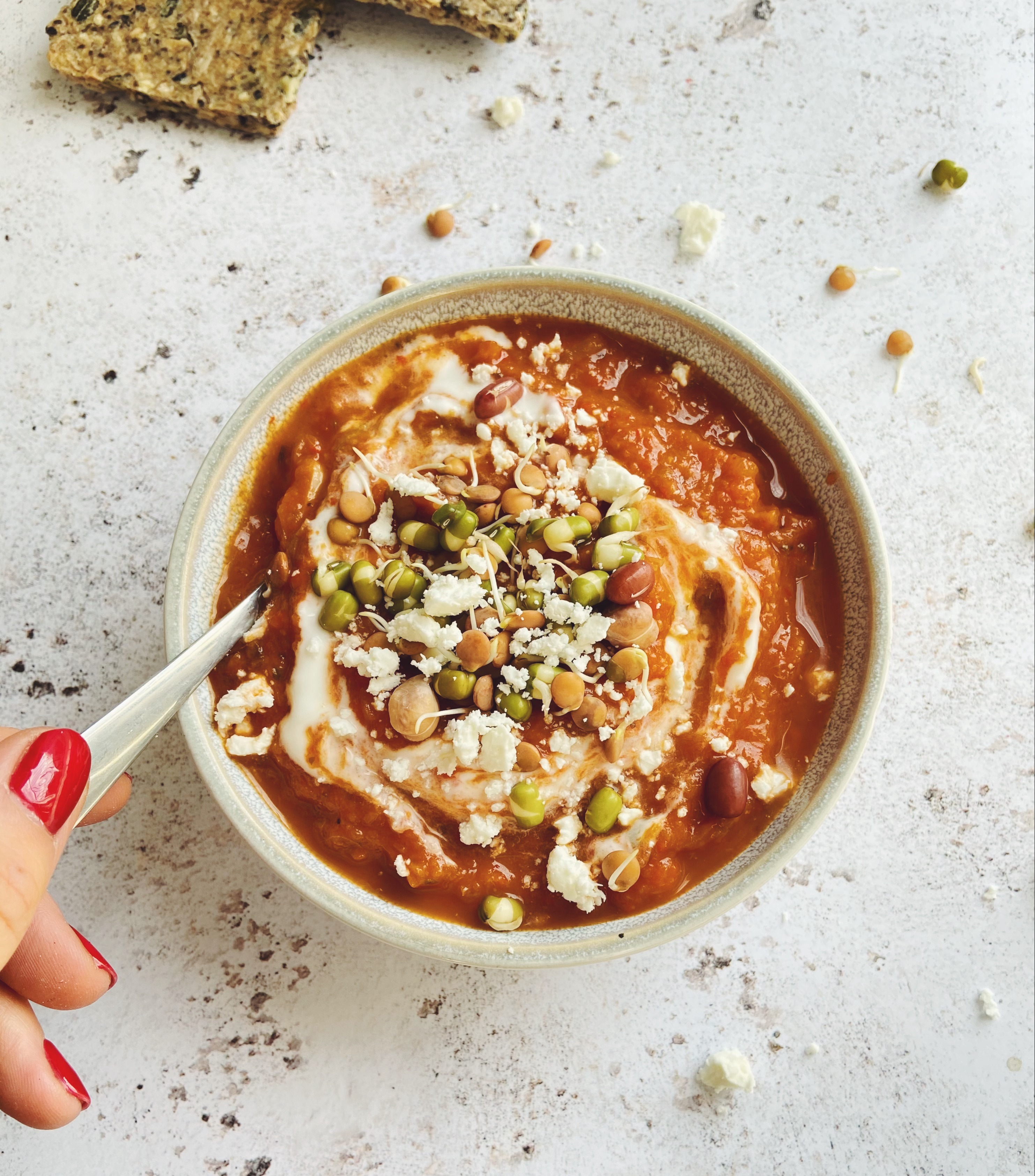 INGREDIENTS
1 aubergine, peeled and cut into chunks
2 red peppers, cut into wedges
1 can plum tomatoes
1 onion
2 cloves garlic
1-2-inch cube ginger, chopped
1 large leek
Vegetable stock
1-2 tsp paprika
1 tbsp. tahini
1 tsp maple syrup
Juice of 1 lemon
INSTRUCTIONS
1. Drizzle the aubergine and pepper in olive oil and salt and bake in the oven for 25 minutes.
2. Meanwhile heat 1 tbsp olive oil in a pan and add the onions, leeks, garlic and ginger and cook for 2-3 minutes or until soft.
3. Add in the paprika, salt, vegetable stock, plum tomatoes, maple syrup and tahini and let simmer on a low heat for 15 -20 minutes.
4. Add the aubergine and red pepper, and mix thoroughly.
5. Use a hand hold blender to blend the soup to a desired consistency. I like mine a bit chunkier.
6. Garnish with spouted seeds and coconut yogurt.

DID YOU MAKE THIS? Tag @rootedliving1 or Hashtag #rootedliving